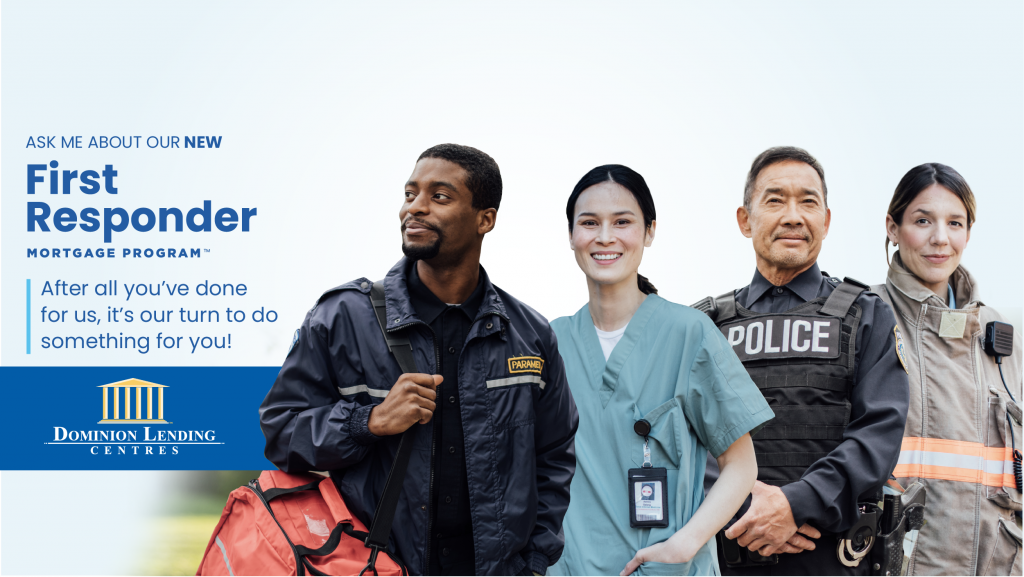 In the spirit of giving back, I am pleased to announce the launch of the Dominion Lending Centres First Responder Mortgage Program. This offer was created just for you as my way of ensuring your mortgage is stress-free, and to provide a helping hand on your journey throughout homeownership.

You do so much for all of us, it is my turn to do something for you.
Who is Eligible:
Police Officers
Paramedics
Firefighters(employed and volunteer)
Correctional Services
Border Services
Search & Rescue(employed and volunteer)
Registered Physicians
Registered Nurses
My Promise
My DLC First Responder Mortgage Program was created to provide you and your family with the best available mortgage option. From purchasing a home to switching from your current mortgage lender, I am here for YOU!
If you are eligible for this program, you have access to the following incredible benefits:
Competitive rates1
Up to $1,600 cashback on all eligible new purchase transactions - or up to $1,200 when you switch 2 your existing mortgage to a new qualified Fixed or Variable rate mortgage 3
Up to $400 for discharge and switch fees4
Additional cash offers available with eligible banking packages4
1 Rates are subject to change and are dependent on qualification and credit rating, speak with your mortgage expert to learn more.2 Switch Promotional Cashback offer cannot be combined with the cashback for purchase transactions or IFP cashback deal.3 Customers must attend in branch meeting in order to qualify for the cashback promotion.4 Some conditions apply.
Apply now!
I can take the stress out of the mortgage process.
As your dedicated mortgage expert, it is my goal to find the best mortgage for YOU with financing solutions to meet your unique needs – and the First Responder Mortgage Program can help! Backed by one of Canada's largest banks and offering competitive rates and cash back incentives based on your mortgage amount, this is a great opportunity.
If you are looking to achieve your dream of home ownership, please contact me today for unbiased advice and the very best mortgage solution.
Get Pre-approved